Deck
October 19 2007, 10:52 PM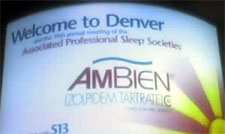 Remember when Mass. congressman Patrick Kennedy made headlines after a traffic accident, announced he'd been "driving while Ambien'ed" and entered rehab? Colorado now has it's own case.
District Attorney Craig Westberg has publicly apologized after his arrest on suspicion of driving under the influence of a sleeping pill. Westberg, the chief prosecutor for Archuleta, San Juan and La Plata counties in southwest Colorado, was arrested Oct. 10 on suspicion of driving under the influence of a drug and careless driving. Westberg's apology was published in Friday's editions of the Durango Herald. He wrote he had taken Ambien and left home on an errand when his vision suddenly became blurred while he was driving. "I was not far from home and thought that with concentration, I could still drive home safely," he wrote. "I should have pulled over, but I did not. I was wrong."
In December, the FDA sought stronger warnings on the popular sleep-aid.
Last December, the FDA sent letters to the drug makers, asking them to revise their product labels to include warnings about the potential for severe allergic reactions -- called anaphylaxis -- and severe facial swelling -- called angioedema. At that time, the FDA also asked the manufacturers to add warnings about complex sleep-related behaviors, including sleep-driving, making phone calls, and preparing and eating food or having sex while asleep, Katz said.
Westberg has three ancient arrests (1978 and 1984) for alcohol related driving offenses, but wasn't drinking the night he took Ambien. A special prosecutor has been appointed on the charges stemming from his Ambien offense, driving while under the influence of a drug and careless driving. I wonder if former Secretary of State Colin Powell still believes, as he did in 2003:
"They're a wonderful medication -- not medication. How would you call it? They're called Ambien, which is very good. You don't use Ambien? Everybody here uses Ambien."