The Local newsletter is your free, daily guide to life in Colorado. For locals, by locals. Sign up today!
I was picking my son up at DIA this afternoon, and encountered this overhead billboard at baggage claim.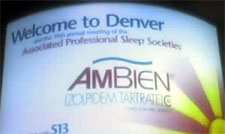 I'm not knocking Ambien, it happens to be an excellent sleeping pill, when used as prescribed by your doctor. But is this how we teach our kids to "just say no"? Or is the message "Come to Denver, Go to Sleep"? Either way, it seems seriously out of place. If drug companies can advertise controlled substances on billboards in public places like airports, what's next? A High Times Magazine billboard with a blown up picture of a joint? Who approves these ads anyway? And don't tell me the difference is one is legal and one is not. In Colorado, both are legal if a doctor prescribes them. The only difference is that with marijuana, the patient has to provide the doctor's prescription to the state to get a certificate that permits the patient to use, possess or grow the drug. Kids aren't blind. Abuse of prescription drugs by teens has tripled in recent years. How long before your well-travelled kid comes into your room at midnight and says, "I can't sleep. Can I have an Ambien?" And when you say "No," don't fool yourself and think that's the end of it. Even if you don't happen to a bottle they can raid, it's easily available on the street.