The Local newsletter is your free, daily guide to life in Colorado. For locals, by locals. Sign up today!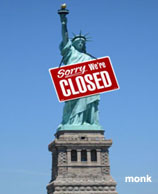 The final installment of a series on Colorado and immigration by newspapers from Colorado Mountain News Media and the Greeley Tribune was published yesterday in the Aspen Times. It explores the positions of Colorado's congressional delegation on the various immigration "reform" bills introduced in Congress.
The Perfect Gift For Everyone On Your List!
Give One Year of 5280 for just $16.
Give a Gift Now »
Not surprisingly, our elected officials in Congress take differing positions, on all sides of the issue:
The Colorado delegates reflect all Congress' varying degrees of political responses to immigration – close the border, open the border, give illegal immigrants amnesty, send them all home.
There are several bills pending in Congress.
The first major piece of legislation, the Comprehensive Enforcement and Immigration Reform Act, emphasizes border security. The measure, which Sens. John Cornyn, R-Texas, and Jon Kyl, R-Ariz., proposed, would authorize hiring 10,000 border patrol agents and 1,250 new customs and border protection officers at specific points of entry. It also would provide $5 billion for technology – like cameras and sensors – to help prevent illegal border crossing.
Rep. Joel Hefley likes this bill. Rep. Mark Udall does not.
Another bill is one proposed by Sens. John McCain and Ted Kennedy:
The Secure America and Orderly Immigration Act focuses a bit on border control but emphasizes a new temporary visa that would allow immigrants to work in the United States for up to three years, after which time the visa can be renewed once. It is intended to funnel immigrants to jobs Americans don't want
Former Colorado Governor Dick Lamm doesn't like the McCain-Kennedy bill, thinking it is a disguised amnesty bill. Others disagree:
"People have to come forward, they have to pay a big fine and application fees, they have to go through background checks, pay all of the back taxes that are owed if they were working off the books and prove they've been learning English," said Michele Waslin, director of Immigration Policy Research at the National Council of La Raza, a Hispanic-American advocacy group in Washington. "I don't think that when you have to do all that, you can consider that an amnesty."
And of course, there's a Tom Tancredo-sponsored bill called the Real Guest Act.
Rep. Tom Tancredo introduced the legislation aiming to secure the border, enforce employment laws and establish a guest worker program. It is the only bill to call for the use of military force on the border, in addition to preventing children born to illegal immigrants from attaining U.S. citizenship.
How hospitable of him.
Those who oppose mass deportation of undocumented residents, like Congressman Mark Udall, point out:
"The idea that we could somehow deport 8 to 10 million people overnight, or even over a six- to-12-month period of time, just doesn't strike many folks as realistic, both in manpower needs, the administrative backup that would be necessitated and, frankly, the impact it would have on our economic system," Udall said.
Rep. Marilyn Musgrave weighs in with this thought:
Rep. Marilyn Musgrave, R-Colo., said she supports legislation that would allow workers to come into the country for agricultural jobs but also supports promoting democracy around the world as a way to slow the rate of immigration into the United States.

"It's really quite heartbreaking to see people so desperate to get a job and provide for their family that they're willing to risk their life," Musgrave said. "It's a desperateness that many of us cannot identify with."
Rep. Bob Beauprez provides his view:
"Some think that borders are nonsense and we should just throw them around the planet Earth," said Rep. Bob Beauprez, R-Colo. "And others want to put up a fence and close off immigration and kick down doors in the middle of the night and send those who don't have proper documentation out of the country. Somewhere in the middle there's a solution that I think we have to find and then enforce."
There are a lot of other views expressed in this fine article and I highly recommend reading all of it, as well as the entire series.